 Description
Choice Hybond Products

Choice Brands Adhesives, widely known as Hybond Adhesive products, is a leading manufacturer of industrial adhesives. Their commitment to quality has made them a trusted name in the cabinetry and furniture manufacturing industries. ESI proudly offers the Choice Brands family of products because they reflect our focus on quality and service.
ESI stocks the following items in most of their nine locations. Call your nearest ESI for more information.
Contact Us
Fill out form below and representative will contact you soon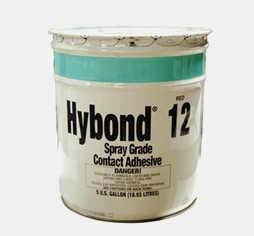 HYBOND 12
5 Gallon, 55 Gallon
High performance spray contact cement
Postformable
Excellent room temperature contact-ability
Excellent green strength (The ability of an adhesive to be handled before it has completely cured – Green strength allows a part to continue moving through the assembly line while the adhesive cures) and high heat resistance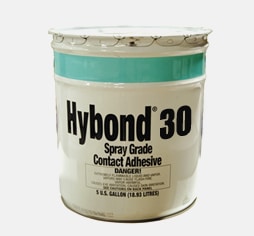 HYBOND 30 WATERBASE
1 Gallon, 5 Gallon
A high performance solvent free neoprene water borne contact adhesive with good heat resistance, and excellent initial tack and bond strength. Hybond 30 can be brushed, rolled, and sprayed. It can be used for flat laminations and post-forming of DHPL to wood substrates.
• Excellent room temperature "solvent like" contractability• Superior mileage
• Excellent bond adhesion to a variety of substrates, including decorative laminates, particleboard, plywood, and leather.
• Provides good uniform coverage in hand and automatic spray applications.
• Extremely low VOC content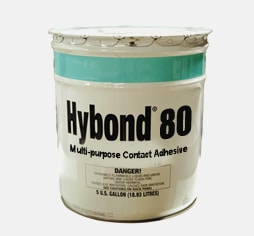 HYBOND 80
1 Gallon, 5 gallon
Hybond 80 is the most versatile high performance neoprene contact adhesive for application by brush, roller or trowel providing the highest strength bonds for brush-on contact adhesive needs as well as critical post-forming applications.
• Coverage: 200-225 sq. ft. per gallon
• Ready to bond in 10-20 minutes
• 120 minute open time
• 20° flash point
• Flammable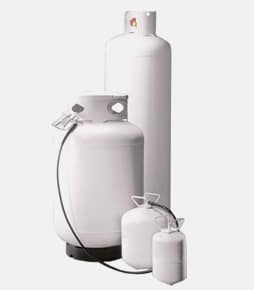 HYBOND CF23 CANISTERS
11 lb, 38 lb, and 355 lb Canisters
Convenient & portable
Fast tack, Strong bond
Temperature resistance to more than 200F
Water resistant
Cost effective, High coverage rate (85-100 sqft/lb)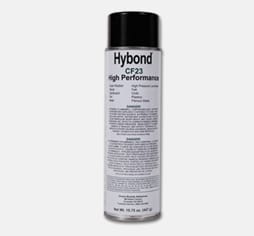 HYBOND CF23 AEROSOL CAN
15 ounce
Convenient & portable
Fast tack, Strong bond
Temperature resistance to more than 200F
Water resistant
Cost effective, High coverage rate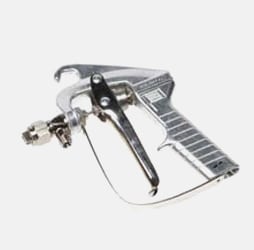 PROFESSIONAL SPRAY GUN
The Professional spray gun is the ultimate spray gun with a 30 year proven track record and life time guarantee. The gun is a full cast aluminum body, with full finger trigger movement giving far less potential of RSI. The spray gun will fit all types of canister hoses and gives perfect spray patterns when used with the Tensor range of products.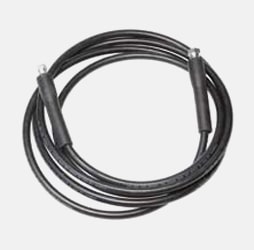 SPRAY HOSE 18 FT.
Our adhesive spray hoses are made from high quality rayon reinforced Goodyear hose with a Nylon 7 core, giving ultimate flexibility and user convenience. Every hose has fully swaged couplings and a rubber bend restrictor on each end to prevent damage.