 Description
Veneers
Quality is defined by the manufacturing process. ESI offers a comprehensive line of veneer sheets which have been sourced from the best factories across the USA. We have partnered with these manufacturers to offer a wide variety of options, while being mindful of responsible growing and harvesting techniques. Our wood veneers are laminated to a resin impregnated backer sheet which insures a reliable backer-to-face bond. This sheet is manufactured to reduce blistering, warping, cupping, splits, and cracks. We also offer other types of backer substrates, please call more more specific information.
FSC® products available on request
Contact Us
Fill out the form below for more information about our products and services.

Veneer Cuts
Flat Cut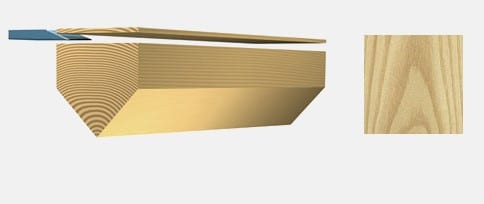 Flat cut, flat sliced, crown cut or plain sliced are synonymous terms used in different countries. The half log (flitch) is mounted with the heart side away from the knife against the flitch table of the slicer. The slicing is done parallel to a line through the center of the log. This produces a distinctive 'cathedral', or heart figure. The ratio of quartered to crown faces produced by this method naturally runs about 60-40% in favor of crown.
Plain slicing produces the largest width veneer of the slicing methods as a log is cut into two flitches before slicing. The other slicing methods use logs which have been cut into several flitches prior to slicing.
Quartered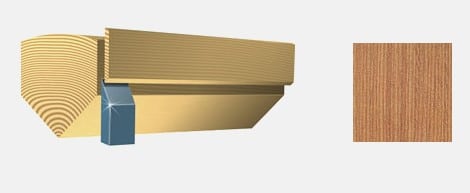 Quarter slicing involves first cutting the log into four pieces. Then the manufacturer places the quarter log (flitch) on the flitch table so that the growth rings of the log strike the knife at approximately right angles, producing a series of stripes, straight in some species, varied in others. The width of veneer produced through quarter slicing is less than plain slicing, with an average less than 8 inches – depending on log size. The 'flake' appearance in oak is produced by the quarter slicing method.
Rift Cut

Rift-cut veneer is produced from the various species of oaks. The logs are cut into four pieces.
Rift-cut veneer has a straight grained look, which is obtained by periodically changing the cutting angle to stay about 15 degrees off the quartered position to avoid the 'flake' figure. The width of veneer produced through rift-cutting is less than plain slicing, with an average less than 8 inches – depending on log size.
Rotary Cut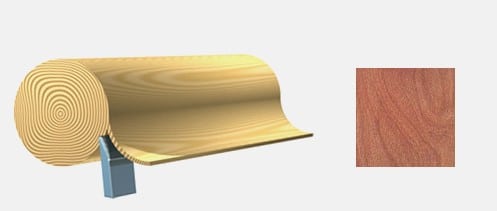 In rotary cutting, the log is mounted centrally in the lathe and turned against a knife, as if unwinding a roll of paper. A multi-patterned grain marking is produced with this method. Rotary cut veneer can be sufficiently wide to provide full sheet (one piece) faces.
Veneer Thickness
10 MIL
10 mil backed veneer is very flexible and easy to work with, making it the solution for wrapping contours and shapes. Choose from a variety of domestic and exotic woods.
Cuts with scissors
Applies in seconds with glue, contact cement, or hot melt
Available non-glued or with 3M® pressure sensitive adhesive
Standard 4′ x 8′ and 4′ x 10′ sheets available
Also available in 2′ x 3′, 2′ x 4′, 2′ x 8′, 2′ x 10′, 3′ x 10′
Special sizes available upon request
20 MIL
20 mil laminate has a semi-rigid back which provides an excellent surface bond. 20 mil laminate backer is thicker to eliminate telegraphing and sand through and is suitable for wrapping columns and curved panels.
Pre-sanded and stress relieved
Thicker to eliminate telegraphing and sand through
Suitable for wrapping columns and curved panels
Available non-glued or with 3M® pressure sensitive adhesive
Standard 4′ x 8′ and 4′ x 10′ sheets available
Also available in 2′ x 3′, 2′ x 4′, 2′ x 8′, 2′ x 10′, 3′ x 10′
Special sizes available upon request
30 MIL
For the roughest of substrates, 30 Mil has excellent coverage and durability. It's an excellent choice for applications using a flat surface or projects not requiring a high degree of flexibility
Wood On Wood (2-ply Backer)
Genuine wood veneer with a polymer resin impregnated backer
Excellent moisture resistance
Performs like Phenolic backer
Easy to apply
Does not dry out and become brittle
Less damage from handling
No added formaldehyde
Backer has been rated Class A for Flame Spread
In stock in most popular sizes and species
Flexwood® Polyback
Genuine wood veneer with a polymer resin impregnated backer
Excellent moisture resistance
Performs like Phenolic backer
Easy to apply
Does not dry out and become brittle
Less damage from handling
No added formaldehyde
Backer has been rated Class A for Flame Spread
In stock in most popular sizes and species